White Goods Disposal and Recycling in London
In every household, there are useless white goods that are waiting to be disposed of. Call us to do that for you! We know it is a heavy job and you do not have any idea where to take those items to. We know where we know-how!

Call Now
PHONE: 020 3769 2921
We provide professional white goods disposal. We collect all kinds of electrical goods from your home and take it away. For large goods, we send a team or three men based on availability. Everything is possible for us when it comes to clearance!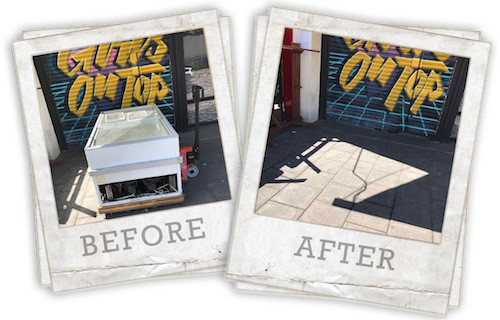 Do you want to get rid of old refrigerators, stoves, smaller electrical devices? Call us and we will come to you. We have our offices in every London area. You can visit us or you can call. Whichever you choose, we will arrange the clearance according to your schedule. We are very flexible because we know our clients' needs.

Call Now
PHONE: 020 3769 2921
Have your home cleared from useless white goods. They are out of order, they occupy space and usually annoy you. Do not waste time and call us to take it out of your place!
How much does it cost?
Our services are professional and the cost is affordable! Prices would be higher if we take out commercial fridges – it depends on the size and weight, whether the fridge is American style, a chest fridge or a standard one.
No surcharges apply for domestic or household white goods.
Min load

10 Mins
£70
1/4 load

20 Mins
£100
1/3 load

30 Mins
£140
1/2 load

40 Mins
£170
3/4 load

50 Mins
£230
Full load

60 Mins
£290
Choose us to have a clean place!
Free your home from old and useless white goods. We are the partner you are looking for. We strongly believe that the flexible schedule we arrange for the clients and the high quality of the services we provide is the key to our success.
It is really important to us to be able to meet your requirements. Life nowadays is busy, we hardly have time for us, so there is no need to waste it to clean. Use our same-day service if you need help at this very moment! Call us if you have old devices that need to be taken out!
Contact us to dispose of your heavy and useless white goods!
We are perfectly equipped, punctual, and easily accessible. What more could you ask for? We work hard and the result is your satisfaction.
Call us on 0203 769 2921, we are coming to clear your place!