Rubbish Removal London
For many years now, Junk Bunk provides Londoners with the best quality rubbish removal at an affordable cost. With teams spread around the city, sending you a junk removal team in less than 2 hours is not a problem at all, but a daily routine for us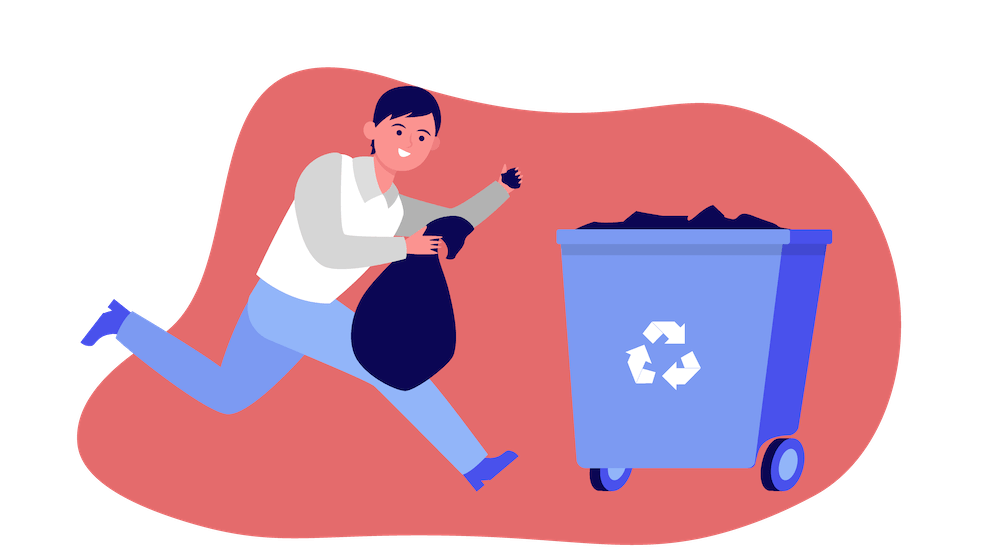 Garbage Collection Service
Getting same day junk removal in London can be very easy and convenient with us. Our well-trained professionals can make the hardest job seem like a piece of cake. Any amount of trash will be taken away in no time!
There are several ways you can get in touch with us. If you are at work and unable to call, just fill out any of the forms on our website, and then one of our representatives will get in touch and give you a cost for the junk collection.
If you are still not convinced that you are in the right place, you can take a look at all the photos we have on the website, they are from real rubbish collections with real clients we had in these past years. You can also check our reviews on Trustpilot and Google!
How does the magic happen?
Junk Bunk gives you the best deals on same day rubbish removal in London.

Call us at 020 3769 2921
or use our contact form to clarify the details.

Our team will get back to you to discuss and give estimation.

Choose a suitable date and time and voilà - a clean home.
It is really that easy!
Considering recent news about fly-tippers, we have to state that by choosing us as your junk clearance company you don't need to worry about that at all. We are fully licensed (license can be sent to you upon request) and we recycle as much as possible.
We appreciate your feedback!
Here's what some of our customers say about our work.
Super efficient service, I got a removal slot next day and the removal of the items took tops 15 minutes

Thomas Maurice
09:26 28 Jul 22
Excellent team - punctual to the minute, hardworking hence quick, asked me to gauge if they had done what I had asked !

Anne-Marie HASSENKAMP
14:25 07 Jul 22
Helpful , professional and punctual

marilyn levy
21:26 27 Jun 22
Walthamstow same day furniture disposal - Quick, efficient and communicative! We had a lot of abandoned broken furniture in our new flat and the teams from Junk Bunk came within 2 hours of me calling and removed everything with ease. A little more expensive than I expected but it was so quick.

Katy Deane
06:28 11 Jun 22
I needed some old furniture to be removed and they did a great job. Excellent service and proffessional and friendly team. I would highly recommend Junk Bunk.

Rumen Simeonov
22:27 05 Jun 22
Removed unwanted furniture from SE8. Very professional, friendly, trouble free service.


Pietro Fumagalli
09:19 30 May 22
Excellent service, on time, courteous, kept in touch, transparent, helpful and friendly.

Joshua Leppard
10:54 28 May 22

Martyn Farmer
08:58 27 May 22
Very happy with this service! Needed our sofa removed urgently and they gave me a quote and removed it all within a few hours! Polite and professional and very careful while removing it all. Thank you so much

Anakha Nambiar
10:25 17 May 22
Really pleased with the service from Junkbunk. They cleared out cupboards and removed various items of furniture efficiently, cost effectively and very quickly. Highly recommended!

FELICITY WADE
14:38 13 May 22
At first I was a little wary because it was quite pricy, but they did a really good job, and even removed two extra bags of rubbish that I didn't write about. They were very professional and did a good job lifting the heavy items that needed removing :)

Jaylee Mittens
10:23 10 May 22

Samuel Lawrence
14:11 04 May 22

Cristian Acquaro
09:17 04 May 22

George Pugh
13:43 29 Apr 22
arrived on time and completed the job within an hour;

Chris Moore
08:23 19 Apr 22
Super efficient and on time,Moved everything that was supposed to have been moved at an excellent price....,Highly recommended

stephen victor bailey
16:28 05 Apr 22

Topher Abt
14:09 02 Mar 22
I have recently used Junk bunk and I must say that the service was excellent reasonably priced and the team were on time and very polite and I would definitely recommend them to others who need rubbish removal or any other services that they offer. I will be using them again,thank you Junk bunk team. Well done!

Ethreld Ewart
13:02 20 Feb 22
Great service and good price. We had a very heavy piano needing removal and disposal. Quote and removal on the same day. Staff were professional, polite and friendly. I am delighted to recommend the business.

Ruth Richey
14:10 14 Feb 22
Rubbish Removal Company London
Junk Bunk is an eco-friendly rubbish removal company with several bases in different locations in London. The greatest focus of us and our entire team is on you, our customers. We understand that your money is earned with hard work and your time is valuable so we offer punctual estimates without any obligation. Now, we are rated as one of the top three best junk removal companies in London for our customer service.
Rubbish collection in bank holidays
Convenient pickup (same day service)
Upfront pricing - fair & reasonable cost
Responsible rubbish removal
Full junk removal service
It doesn't matter what kind of junk we collect, it matters that most of it is recycled. From collection, loading and recycling our staff does all the waste clearance in London.

Cheap rubbish removal London
Low prices and high-quality service is what we offer you. You can count on our many years of experience in the junk removal industry.

The 24-hour partner
You just call and we are there on the most convenient day and time for you, 7 days a week.

Junk removal cost
You will get a reasonable and fair price for junk removal from us.

A well equipped team
The trained and well-equipped teams with all the necessary working tools can handle any type of job.

Eco-friendly service
From disposal to recycling, the whole process is done by us, in the right and environmentally friendly ways.
Need a reliable and efficient junk removal service?
From single items to commercial waste piles, partial loads and up to full loads, we will do all the lifting. Despite the difficulty, our staff does all the work and we make sure that every movement is safe without damaging anything around.
For us, junk removal has a set deadline. It is performed by a man and van rubbish removal London and in case of big jobs, the staff is doubled. Our experts are fully equipped with tools for both the removal and recycling of various types of waste.
It is not surprising that hundreds of clients already use Junk Bunk services continuously and repeatedly. We are constantly improving our services based on your requirements and this makes us offering the best rubbish collection in London.
Frequently asked questions
Maybe you have questions to which you still do not have answers. If you take a look at the list below you will find many of the most frequently asked questions from clients or other people. There may also be some of your questions about waste disposal which are accompanied by the answers you need.