Rubbish Removal London
For many years now, Junk Bunk provides Londoners with the best quality rubbish removal at an affordable cost. With teams spread around the city, sending you a junk removal team in less than 2 hours is not a problem at all, but a daily routine for us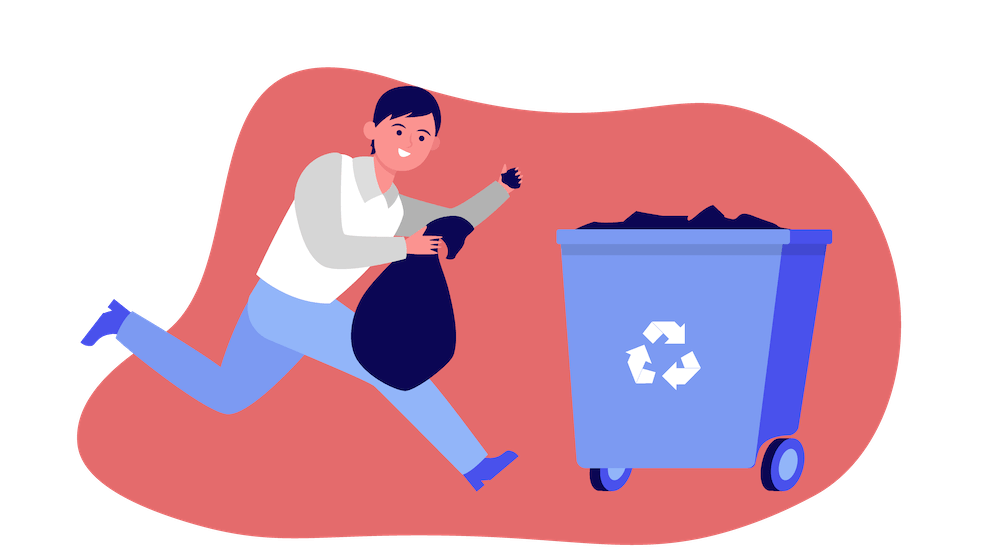 Garbage Collection Service
Getting same day junk removal in London can be very easy and convenient with us. Our well-trained professionals can make the hardest job seem like a piece of cake. Any amount of trash will be taken away in no time!
There are several ways you can get in touch with us. If you are at work and unable to call, just fill out any of the forms on our website, and then one of our representatives will get in touch and give you a cost for the junk collection.
If you are still not convinced that you are in the right place, you can take a look at all the photos we have on the website, they are from real rubbish collections with real clients we had in these past years. You can also check our reviews on Trustpilot and Google!
How does the magic happen?
Junk Bunk gives you the best deals on same day rubbish removal in London.

Call us at 020 3769 2921
or use our contact form to clarify the details.

Our team will get back to you to discuss and give estimation.

Choose a suitable date and time and voilà - a clean home.
It is really that easy!
Considering recent news about fly-tippers, we have to state that by choosing us as your junk clearance company you don't need to worry about that at all. We are fully licensed (license can be sent to you upon request) and we recycle as much as possible.
We appreciate your feedback!
Here's what some of our customers say about our work.
Very pleased with the job this company did. Highly recommend

Lara Wheeler
12:03 22 Nov 23
Very efficient and good communication

Adam Stafford
07:03 21 Nov 23
Best removal service I've used so far. In the process of moving home and they've made things so much easier. Affordable and prompt and very friendly staff. My definite recommendation for any removal needs.

Mayank Sharma
13:57 17 Nov 23
Can't recommend highly enough. Super professional and convenient service. Thank you Anna and the team!

Sophie Medlin
16:42 24 Oct 23
Needed some rubbish removed from a garage. Would thoroughly recommend this company - excellent service, no hidden costs, reliable and excellent communication.

Jane Goodwin
08:46 15 Oct 23
Excellent service and great price

Quick, fuss free, and friendly both at time of arranging and collection.Definitely recommend

Simon Hawkins
11:55 09 Oct 23
Junk bunk were a pleasure.Very professional, on time, well priced and a great job completed.Thank you so much.

Very easy to book and interact with. The rubbish was collected quickly and on the date and time they gave me for the quoted price.

Jessica Lockley (JayKL81)
13:29 05 Oct 23
Very easy and pleasant people to deal with. Did sterling work and I would highly recommend them.

Ann Hutchings
06:52 21 Sep 23
Cannot recommend these professionals enough. I have a narrow boat I am doing up. Stripping materials gets messy and builds up fast. They came a total of 5 times. Always professional always helpful and always affordable prices.I had other quotes beyond what they offered which was out of my budget.They are very helpful professional and respectful of what needs to be done. No task too small or too big. Pulling big pieces of wood from a narrow boat as a team.I am always cautious with companies however after doing my research I feel these are the best of the best.10/10 service. Thank you to the whole team.Next day or same day service, quotes via WhatsApp which are always spot on. Friendly helpful staff. I paid cash and bank transfer as I used them a lot.I wish they did other services it's rare to come by a company so professional within London.

Alice Bentley
17:20 15 Sep 23
I used Junk bunk after being let down by another waste removal company.They were efficient and professional from start to finish doing a great job.I will 100% recommend and use again

Excellent service, super friendly and efficient, got the job done next day with no fuss - an absolute pleasure to deal with. Thanks so much!

Nick Bolton
17:32 12 Sep 23
Labeeka Hague & Heshaam Hague - the 2 guys were firstly very friendly, and service was super efficient. Reception staff on the phone were also really nice and helpful. Would highly recommend to everyone and we'll definitely use again. Thanks JunkBunk team!

Heshaam Hague
15:53 06 Sep 23
Had a fair amount of junk to dispose of before moving flats.Called them at 10.30, they managed to send me someone in less than an hour. The person was brilliant and professional and the price was just as quoted, no bad surprises.I would recommend them in a heartbeat!

Best clearance service I've used. Clear on cost from the outset. I recieved updates as I needed them. The pair that turned up were polite, professional and very efficient. Will def use again.

James Ashley
12:12 30 Jun 23
Junk Bunk are extremely helpful, prompt in response, and very courteous in organizing around your schedule. Would recommend.

Mitchell Kapoor
10:45 26 Jun 23
Arrived on time - early in fact - pleasant, efficient, quick and very competitively priced. Blew the competition out of the water. Tidied up nicely too. Thank you!

Mike Curtis
13:46 23 Jun 23
They were quick and professional and thorough, thanks :)

Rudi Barwis
14:06 29 May 23

Benedetto Conversano
08:04 29 Apr 23
Rubbish Removal Company London
Junk Bunk is an eco-friendly rubbish removal company with several bases in different locations in London. The greatest focus of us and our entire team is on you, our customers. We understand that your money is earned with hard work and your time is valuable so we offer punctual estimates without any obligation. Now, we are rated as one of the top three best junk removal companies in London for our customer service.
Rubbish collection in bank holidays
Convenient pickup (same day service)
Upfront pricing - fair & reasonable cost
Responsible rubbish removal
Full junk removal service
It doesn't matter what kind of junk we collect, it matters that most of it is recycled. From collection, loading and recycling our staff does all the waste clearance in London.

Cheap rubbish removal London
Low prices and high-quality service is what we offer you. You can count on our many years of experience in the junk removal industry.

The 24-hour partner
You just call and we are there on the most convenient day and time for you, 7 days a week.

Junk removal cost
You will get a reasonable and fair price for junk removal from us.

A well equipped team
The trained and well-equipped teams with all the necessary working tools can handle any type of job.

Eco-friendly service
From disposal to recycling, the whole process is done by us, in the right and environmentally friendly ways.
Need a reliable and efficient junk removal service?
From single items to commercial waste piles, partial loads and up to full loads, we will do all the lifting. Despite the difficulty, our staff does all the work and we make sure that every movement is safe without damaging anything around.
For us, junk removal has a set deadline. It is performed by a man and van rubbish removal London and in case of big jobs, the staff is doubled. Our experts are fully equipped with tools for both the removal and recycling of various types of waste.
It is not surprising that hundreds of clients already use Junk Bunk services continuously and repeatedly. We are constantly improving our services based on your requirements and this makes us offering the best rubbish collection in London.
Frequently asked questions
Maybe you have questions to which you still do not have answers. If you take a look at the list below you will find many of the most frequently asked questions from clients or other people. There may also be some of your questions about waste disposal which are accompanied by the answers you need.