JunkBunk
Rubbish Removal Specialists
We offer rubbish removal services for local and commercial clients in Greater London. No matter how big your project will be, our teams collect different waste of different sizes. Our specialists help in everything, from the collection of general waste to the garden waste clearance, the removal of construction waste or even the office clearance. The work starts with the rubbish collection continues with their disposal and goes as far as recycling. At the request of the client, the rubbish removal in London will be performed on the same day by experts in the field.
Our prices are as good as our man and van rubbish removal services, we charge you reasonably and for more information, you can check our competitive prices.

Same-Day Rubbish Clearance Service
We all know how big and busy London is. To get rubbish and waste removed as fast and flexible as possible we have enabled local teams across the city area. This shows that there will be no need to wait long to get rid of unwanted items, just book the same day rubbish clearance and say goodbye to rubbish.
Quick and Affordable Junk Removal in London
Junk removal service is one of the fastest and hassle-free ways. There is no better feeling than to finally see your messy space clean of excess debris. This is especially true if you have just undergone a major renovation, spring cleaning or moving house. Our expert teams are the ones who meet every request of our client for rubbish clearance in London.
We do not use hidden waste disposal fees. Everything is fair, honest, transparent and our services do not cost a fortune. For your free quote, you can contact customer service at 020 3769 2921 or use our online reservation. Do not miss the chance to benefit from quick and cheap junk removal.
Rubbish Clearance and Bulky Waste Collection
Getting rid of debris, especially when it comes to heavy and bulky items, does not sound like a simple thing. But with us, you will find various solutions and services. Not just rubbish clearance as a single item or some personal items but large and heavy waste disposal. Our work is done equally for single items as well as for large piles of waste, with responsibility and punctuality. It does not matter if you want to remove a wardrobe or construction debris if you want to remove some work tools from your yard or empty an office. Whatever this waste we will provide you with trained and specialized teams to handle any type of work regardless of its size and difficulty. To be sure about the price you can click on the box to get a free quote.
London's Trusted Rubbish Removal Company
We hold a full license of waste carriers and are fully secured.

Waste clearance is done by professional two-person teams.

Same day rubbish clearance throughout London.

Speedy service by removing unwanted waste in record time.

Stress-free and flexible rubbish removal 7 days a week

More than 80% of the waste that we collect is recycled or reused.
Fairy and transparent waste removal prices.
Convenient scheduling for each customer.
Rubbish Clearance Near Me?
You are certainly looking for the closest waste collectors in your local area. It's of great importance and a bit of fair luck to find and hire a licensed rubbish removal company that cares about the environment more than you. Even more, it should bring the rubbish collection service to you at a cost that matches the market prices. On the other hand, it is the duty of the waste disposal company in the local field to provide the highly sought after professional junk removal service. Here we stand out!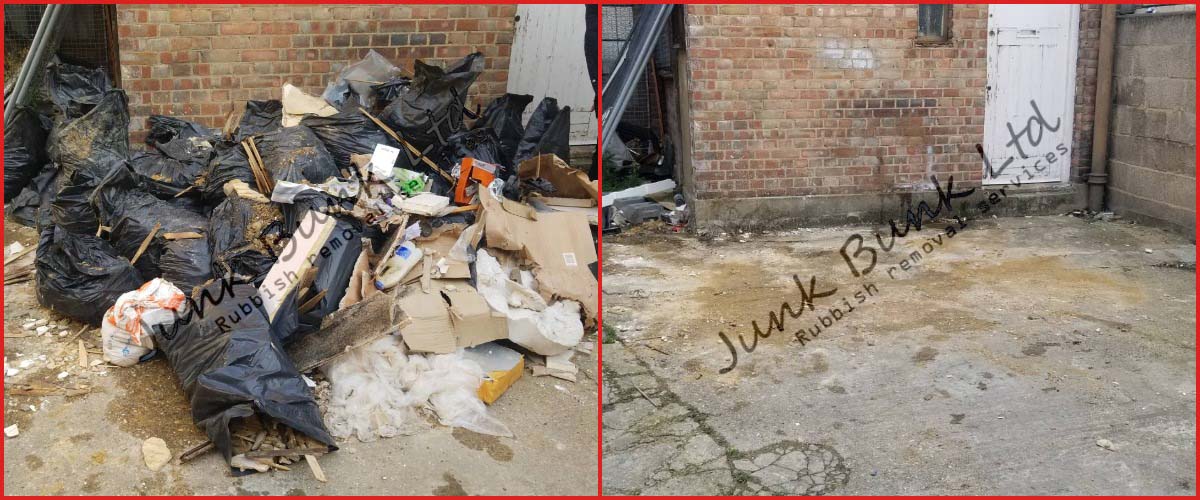 We have worked hard to provide the simplest possible man with van rubbish removal London and easy to use. Based on the fact that we cover the whole of London even further, this means that we are your local waste disposal provider. As a result, you have now the opportunity to use our same-day rubbish removal for domestic and commercial purposes.
If you wonder about what our junk clearance London includes is any type of household and commercial waste, business waste, renovation waste removal, end of tenancy rubbish removal, etc.
Using Junk Bunk man with a van waste disposal is of great value for anyone who shows care for the environment and relies on quality service. 
Don't really wonder who should you choose and whom you have to trust as you have the choice now.
Frequently Asked Questions about rubbish removal in UK:
How to get rid of rubbish?
You can expect the local council to pick up the rubbish for you. Otherwise, you can use a licensed waste disposal company to pick up the waste from your property.
How to get rid of household rubbish?
A civic amenity site is a facility where the public can dispose of household waste. Another way is to hire a professional team from house clearance companies who take the waste directly from your home.
How to get rid of rubbish from refurbishment?
You have two options, either contact a private rubbish removal company or use a skip hire service.
How much does it cost to clear rubbish?
The cost to dump at a landfill is usually around £50 but you have to do it yourself. Using a recycling service, you can usually expect to pay £50 to £150 depending on the amount of the rubbish. Disposing of waste through a junk removal service can cost anywhere from £35 to £270 depends on how much space the waste takes up in the van.
Where to throw rubbish near me?
Load your waste in a vehicle and dispose of it in a local landfill or recycling depo near you. A simpler way is to contact a local private waste disposal company.