Builders Waste Disposal Services in London
You have finished with the repair? Call us to clear the place!
Every house need repair sometimes. If this is your situation and you have just finished with the work, call us to come and clear the builders waste. Do not think where in London you live. We can be found everywhere in the city. Our offices are spread in every area of London. We know how important it is not to have waste scattered outside your house and that it must be immediately taken away. That is why we understand the significance of availability of our services. If you can reach us at any time anywhere, that is the best for our business. And in reverse we do the best for you.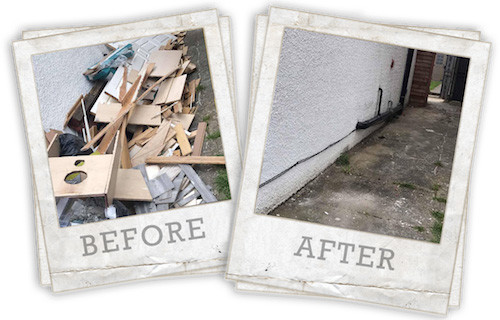 We will clear the place professionally, and the clearance will be conformed to your free time. We can send your teams now, if the situation is urgent, or after working hours, or at the weekend! You can rely on us! We will take your schedule into consideration.
We are perfectly equipped to clear any kind of builders waste, so you do not have to worry about the volume or weight of the waste. We have big vans, enough people and excellent time management.
Your place will be cleared and you will have no troubles thinking what to do after repairs have finished.
How much do we charge you!
Our prices are affordable and you can check them in our price list. We do not want money if extra hand is needed. You pay only for the amount of waste that is cleared from your property. We insist on being fair and correct with our clients. Contact us or come to our offices and we will arrange everything according to your needs.
Choose the professional team!
It is very important to know that you can rely on the people you pay to do a job. We provide not only excellent service but also we are trustworthy and loyal. If we have arranged a clearance with you, you can be absolutely sure that we will be there on time, we will work hard to complete the job professionally, and we will leave the place clean and nice.
We are perfectly equipped, hard-working, efficient and professionalism is our trade mark. We provide the best clearance service in London and we are proud with the number of satisfied clients of ours. We know that quality is better than quantity but when combined, as it is in our case, this is the best award for our effort.
Call us on +442037692921 and we will clear all the builders waste from your place!
Prices for removal and disposal of building materials are based mainly on the weight of the rubbish.
Labour: 10 Mins(two men)
Cubic Yards: 1.5
Max Weight:150kg
Equivalent to : 8 bin bags

Labour: 20 Mins(two men)
Cubic Yards: 3.5
Max Weight:250kg
Equivalent to : 20 bin bags

Labour: 30 Mins(two men)
Cubic Yards: 5.25
Max Weight:350-425kg
Equivalent to : 30 bin bags

Labour: 40 Mins(two men)
Cubic Yards: 7
Max Weight:500-600kg
Equivalent to : 40 bin bags

Labour: 50 Mins(two men)
Cubic Yards: 10.5
Max Weight:800-950kg
Equivalent to : 60 bin bags

Labour: 60 Mins(two men)
Cubic Yards: 14
Max Weight:1000-1200kg
Equivalent to : 80 bin bags

Note: A rubble bag normally weighs around 25-30kg. The weight of 40 black bin bags might be around 1000-1200kg.