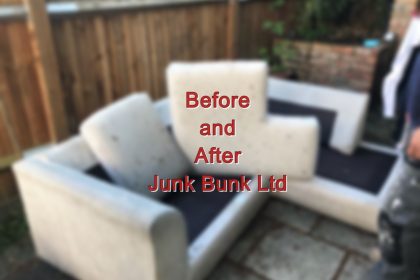 Old furniture can be a nightmare to take care of. You cannot just dump them in the nearest city rubbish bin and you cannot leave it on the street. And then there is the part where you put all that effort just to take it out. Especially if you have a huge sofa that needs moving. All the fatigue will come when taking it outside and then what? The best choice to make in Harlow CM17 is to call us and we will make sure that the furniture waste removal is dealt with as soon as possible.
Get in touch with Junk Bunk Ltd
Get in touch with Junk Bunk Ltd for a Thorough Furniture Waste Removal Right Now
We serve the CM18 and CM19 areas as well and we make the right effort to deal with your old or broken furniture. We will handle anything from many chairs to huge wardrobes, mattresses, or bed frames. No amount of work is too much or not enough. We will do exactly what you want handled and we will handle it as soon as today if you make use of our same day services.
You can visit our website or contact our 24/7 customer service to get a full list of our services and pick the one that will serve you best.
The Service You Need
With so many clearance companies in Harlow CM18 it is not an easy task to make a choice. We may not be able to offer anything more original than the rest, but we can offer something better. Our collectors are experts in the field and they will take care of any size of furniture with expertise. Their contribution to your needs will be a significant one and you will see it as soon as they arrive and start doing work. They are the best in CM17 and you can quote us on that.
Never worry about the price of the services. We have the best prices in the CM19 area. We make sure that our costs match the living standards and we make sure that you get everything at affordable rates. Further than that, we have special deals and offers that dumb down the cost even more.
Get in touch with us today and get your furniture waste removal service for Harlow. We are here to help and we will start helping with a free price estimate.