Rubbish Removal Ashford TW15
We will remove all the rubbish that you have collected in your home or office within the TW15 area. Whether it is a commercial or household waste our professionals will handle the difficulty. We have no minimum requests, just a well-organized Ashford rubbish removal.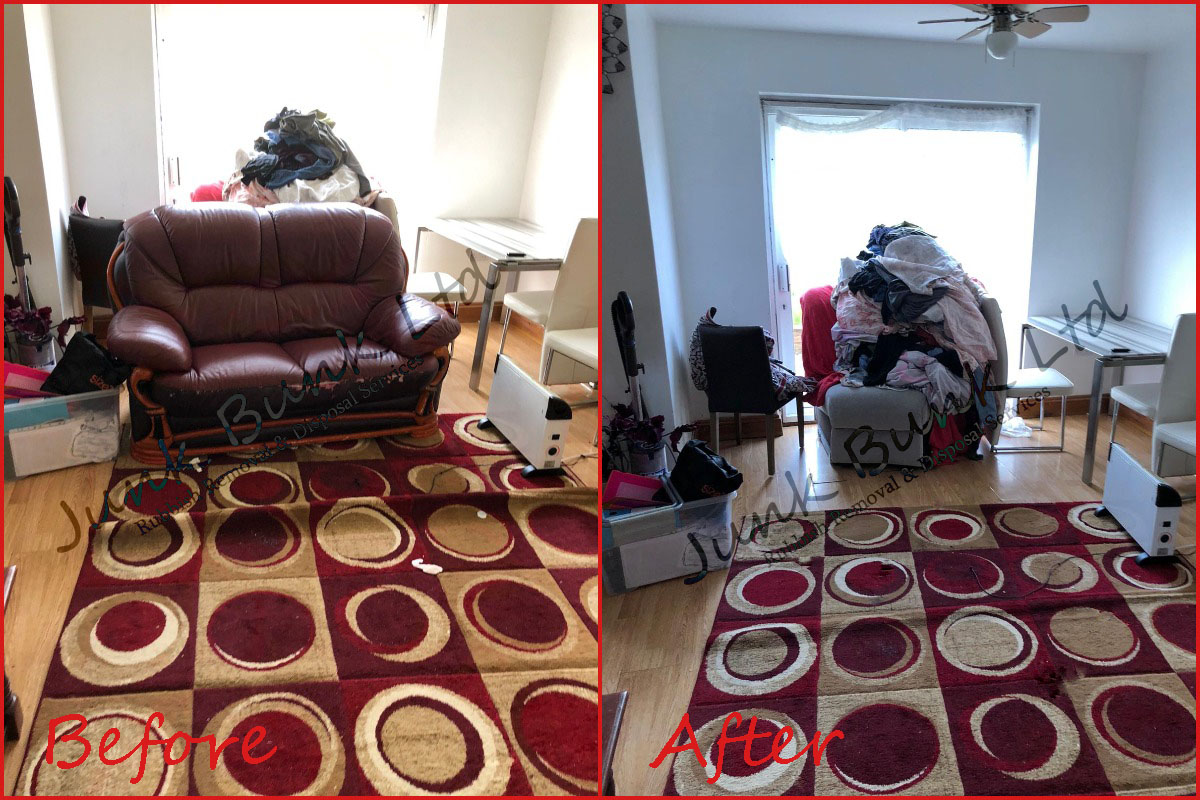 All of our employees wear protecting equipment to be capable of sorting, loading, and taking away your waste in our particularly designed vans. If you need rubbish collection Ashford assistance, Junk Bunk is the company to call. To learn more about our special offers get in touch today on 020 3769 2921.
AFFORDABLE ASHFORD RUBBISH CLEARANCE
Rubbish can be everywhere in the home, garden, loft, and office and it does need to be disposed of in the right way. We are professionals and will do a safe Ashford rubbish clearance. This means we will recycle most of the waste that we collect to protect the environment.
Min load

10 Mins
£70
1/4 load

20 Mins
£100
1/3 load

30 Mins
£140
1/2 load

40 Mins
£170
3/4 load

50 Mins
£230
Full load

60 Mins
£290
By working with us, you don't have to worry anymore about how to get rid of your rubbish. Simply let us accomplish the Ashford waste collection. You can book us at a time that is suitable for you. On the other hand, our workers will do an experienced job at an unbeatable price. We guarantee excellent service at the lowest price.
UNIQUE WASTE REMOVAL COMPANY IN ASHFORD
Hire Junk Bunk and let us help get rid of your rubbish safely. We are the greatest Ashford waste removal and have qualified teams who will sort out all of your unwanted items. Whatever you have to clear away all over the TW13 area, we will help.

Call Now
PHONE: 020 3769 2921
You can rely on us to provide all of the correct authorizations and get rid of your rubbish in agreement with the right guidelines. We will help across the area of TW15 and take care of both commercial and domestic rubbish. Our prices are practical and will appeal to all.
For more details, call us now on 020 3769 2921. Our helpful customer service will give you advice and help you book an appointment today. Call now and ask about our Ashford house clearance special offers.
MAKE THE BEST CHOICE FOR YOUR WASTE DISPOSAL IN ASHFORD
Free your space and let us take away your unwanted rubbish. Waste disposal Ashford is a reasonable way of making more room in your home. We will recycle almost all of your rubbish so you can rest sure that it is not just filling up landfill sites.
We will supply all of the right filings and move the rubbish to the correct waste disposal yard. Our Ashford waste clearance teams are committed and experienced and will do an outstanding job at a reasonable rate.