Rubbish Removal Notting Hill W11
Rubbish removal in Notting Hill is often a stressful and time-consuming job. Junk Bunk is a private waste disposal company that offers a variety of services. From house clearance in Notting Hill to commercial waste removal, we will collect all kinds of junk for you.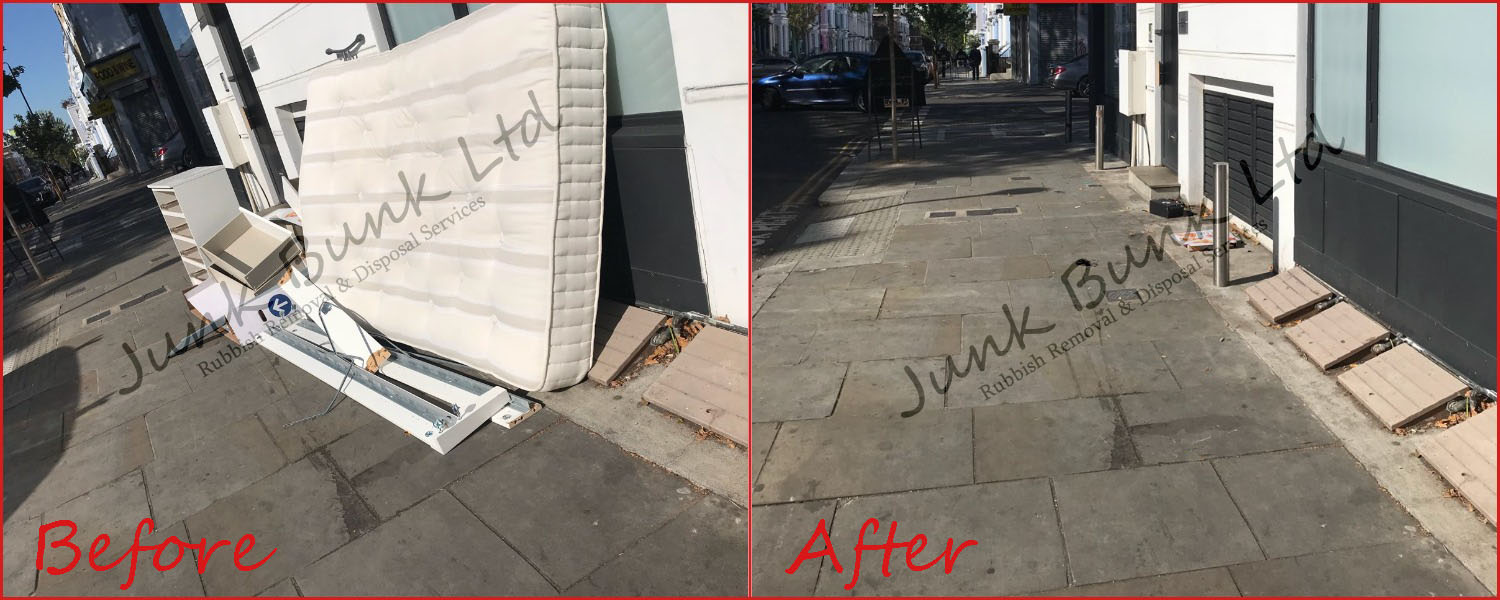 By calling us at 020 3769 2921 you can choose one of our services that suits you best and get a free quote. Our teams will enable you with same-day waste removal in Notting Hill at the most reasonable prices on the market. We will do all the work with the junk removal so you will just have to relax during this time.

Call Now
PHONE: 020 3769 2921
For us, it is not a problem if your waste is large in number, small or huge as our experts know how to deal with any type of trash. Above all your rubbish can be positioned on the upper floors of a building or in narrow places, this will not be a problem for us. We remove debris from any type of building with the utmost care without damaging anything around.
Excellent Rubbish Clearance in Notting Hill Done by Experts
We work with trained teams for rubbish clearance in Notting Hill who know how to act in any situation. Our specialists collect heavy items such as furniture or white goods without any problems and without leaving damage to the building. We use the right ways for rubbish removal in W11 and we are equipped with all the necessary tools.
Min load

10 Mins
£70
1/4 load

20 Mins
£100
1/3 load

30 Mins
£140
1/2 load

40 Mins
£170
3/4 load

50 Mins
£230
Full load

60 Mins
£290
Waste disposal in Notting Hill becomes a very simple job with us as we have many years of work experience in this industry. For all these years we have offered our customers an excellent and stress-free rubbish removal service. Above all our teams are very helpful and very friendly during the work process.
Junk Bunk experts are at your disposal 7 days a week to offer you professional waste clearance in Notting Hill. Our local teams in this area will offer you a service within two hours at the most competitive waste disposal prices. We are simply a call away from you to fill out all your requests about waste disposal in W11.
Easy to book professional waste clearance in Notting Hill W11
Booking a waste disposal service with us is a very short process. Junk Bunk has thought for this part to save your time by making the reservation as simple as possible. A telephone number and an email are at your disposal and our agents are ready to answer you at any time.
It is very simple, you just call us on 020 3769 2921 and we give you all the necessary information about the rubbish collection in Notting Hill. We will give you a free quote based on the amount of waste you want to remove. Simply by sending us a photo of the waste by email you will receive the quote.

Call Now
PHONE: 020 3769 2921
We will make a schedule based on the most convenient day and time for you. If necessary we will enable you with same-day waste collection in Notting Hill. Choose our experts to get a fast and hassle-free junk removal service.