Rubbish Removal Walthamstow E17
Rubbish removal in Walthamstow E17 is one of the easiest tasks for us that will be done in a very short time. You have no reason to worry about waste disposal from your home as we will solve your problem.
We come to you on the same day to offer high quality and efficient house clearance service in E17. We dispose of any kind of rubbish from your house including household waste and furniture, garden, or builders waste.

Call Now
PHONE: 020 3769 2921
Taking care of garbage not only means removing it but also collecting and recycling it. Contact us today on 020 3769 2921 and leave the rubbish removal in E17 in the hands of our experienced teams.
Our work on waste disposal in Walthamstow is performed by trained teams who know how to deal with any type of waste. But not only that, we will remove your rubbish from the high floors of a building or narrow places.
Although your property probably doesn't promise much we always have a solution for waste collection in E17 without damage.
Arrange Same-Day Rubbish Clearance in Walthamstow
Are you looking for professional and fast rubbish clearance in E17? You can hire a local company for waste collection in Walthamstow that will quickly take care of your rubbish. With many years of work experience in the market, rubbish collection in E17 is a short process for us.

Call Now
PHONE: 020 3769 2921
Our experienced teams will take bulky trash from your home delivering a stress-free service and cheap rubbish removal in Walthamstow, London. We cover the entire Walthamstow E17 area to be close to you at every time.
Call 020 3769 2921 and we will help you with same-day waste removal in Walthamstow. We operate 7 days a week for waste clearance in Walthamstow so ask for our help even on weekends.
Often you may need urgent rubbish disposal service and in this case, we will help you within two hours. As for bank holidays, our teams continue to work on waste disposal in E17 so you will find available teams.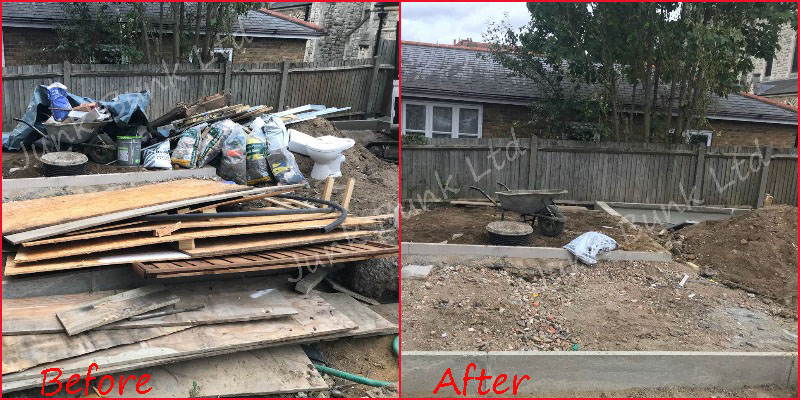 Dominant Waste Removal Company in Walthamstow E17
People want to work with a licensed company that thinks about the best way to eliminate the trash. We are a private waste removal company in E17 that works very quickly and without errors.
Our man with a van waste removal service in Walthamstow will efficiently remove all your unwanted items. Garbage collection in Walthamstow with us becomes easier and safer.
Min load

10 Mins
£70
1/4 load

20 Mins
£100
1/3 load

30 Mins
£140
1/2 load

40 Mins
£170
3/4 load

50 Mins
£230
Full load

60 Mins
£290
We don't want to bother our clients so we collect your garbage from every corner of your home or office. You don't need to prepare before we arrive or collect all the garbage in the yard as we will remove it even if it is scattered on your property.
Finding an eco-friendly waste clearance company in E17 area is no longer difficult with us. Our work doesn't end only with the rubbish disposal in Walthamstow, but with the recycling of as much garbage as possible.

Call Now
PHONE: 020 3769 2921
With us, you have no reason to think yet about how to remove and where to dispose of your junk.
The Diversity of Our Junk Clearance in Walthamstow
We offer a variety of services for the rubbish collection in Walthamstow. Our teams will remove any kind of trash from your property. Junk Bunk provides house clearance, garage and shed clearance, garden waste removal in E17, etc.

Call Now
PHONE: 020 3769 2921
Besides, we will remove your personal belongings which take up space in your home and are unnecessary for you. These items can be clothing, books, guitars, bags, watches, etc.
You may also want to get rid of electronic items such as computers and tablets, night lamps, pianos, hairdryers, etc. We will pick up all these items for you.
Furthermore, you will find local rubbish collection services in Higham Hill. Junk Bunk provides a wide range of rubbish removal services in Higham Hill.
The services are related to office junk removal, white goods disposal, commercial waste pick up, building and heavy construction waste, etc. As you can see, just with a single call you will find the solution to your junk collection.