Rubbish Removal East Ham E6
Once you start making repairs to your home or workplace do not think at all about the waste clearing part. Just a single call on 020 3769 2921 is what you need to do the moment you have to deal with rubbish removal in East Ham. We have experienced trained teams to deal with any E6 waste disposal problem you may have.
From the moment you call us and book our service you know you have made the right decision. With us, there is no need to waste a working day or change your plans to get rid of unwanted waste.
You provide us with the pleasure to help you, we provide you with a suitable pickup time.  We operate seven days a week so you can take advantage of our rubbish removal services at any time, even on bank holidays.
Budget-Friendly Waste Clearance in E6, East London
Do you want to get rid of old stuff that disturbs you, but at the same time, you do not have a stable budget? Relax, here is Junk Bunk that offers you excellent waste removal in East Ham at an affordable cost.
Firstly, the moment you call or email us we provide you with a free quote about the service you are seeking. In case you are happy and decide to book our waste removal service there are no booking fees or any other hidden fees.

Call Now
PHONE: 020 3769 2921
Secondly, you can benefit from the same day or next day junk disposal service at the same price. If necessary, we will provide you with a team of two professionals within two hours.
Most importantly you will pay the moment we finish the rubbish clearance and load it on our truck. You will be sure that the job is done properly and that the East Ham waste disposal cost is fair and deserved.
The junk clearance price is estimated based on the weight and the volume of the load, and no other factor is important.
Get Multiple Rubbish Collection in East Ham
We know that finding every needed service at the same place is what every customer needs while having to do the rubbish disposal in E6.
That's why we have expanded our services more and more by offering today every waste removal service without exception. From single item removal to full house clearance East Ham you have our professional support.
For our experienced specialists, there is no big or small job, difficult or easy task because we do it all when it comes to rubbish collection E6.
Sometimes the garage may be the alternative place where you collect all outdated items. But what happens the moment you decide to buy a new car and need more space?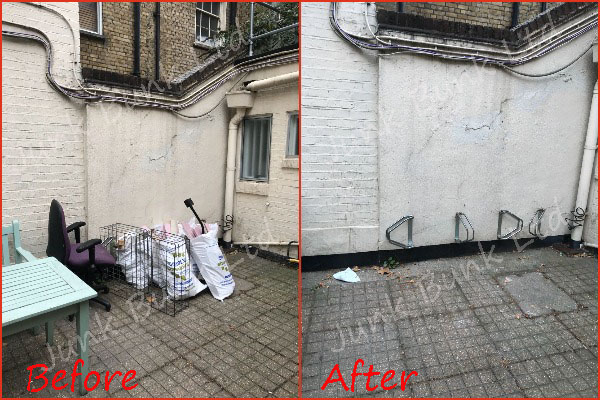 You have to remove any large and heavy waste accumulated for a long time. You can rely on us whenever you need garage clearance E6, garden waste removal, builders waste disposal, and any other service related to domestic and commercial waste collection in East Ham.
Eco-friendly Waste Disposal Company in East Ham
The process of rubbish removal E6 does not end with loading the truck on your property, but it continues with junk recycling. We understand that there is waste such as refrigerators that contain hazardous materials or others that can not be easily decomposed.
For this reason, our waste clearance company is provided by the environmental agency. We treat properly any waste collected from your home or business site.
We try to avoid the landfill by recycling all waste that is recyclable. So, if you require a fast and safe East Ham waste disposal don't hesitate to call us on 020 3769 2921