Office Clearance in East London
Get your office clearance done by professionals
There is a reason you want your office clear? You are situated in East London and wonder where to find professional office clearance help? Junk Bunk Ltd. is the answer to your question!
We are an office clearance company that operates throughout London, including East London. So no matter in each part of the city your office is, we can be there the minute you want us.

Call Now
PHONE: 020 3769 2921
You can find us here in East London: Shoreditch E1, Bethnal Green E2, Bow E3, Chingford E4, Clapton E5, East Ham E6, Forest Gate E7, Hackney E8, Homerton E9, Leyton E10, Leytonstone E11, Manor Park E12, Plaistow E13, Poplar (Isle of Dogs) E14, Stratford E15, North Woolwich E16, Walthamstow E17, Woodford E18, Olympic Park E20
We operate everywhere for you!
Cheap Office Clearance Service
We offer you fast, efficient, and affordable office clearance. Even more! We offer same-day office clearance if there is an urgent situation and you need immediate assistance. We know that is rare to find that is why we do our best to serve our clients the best way possible.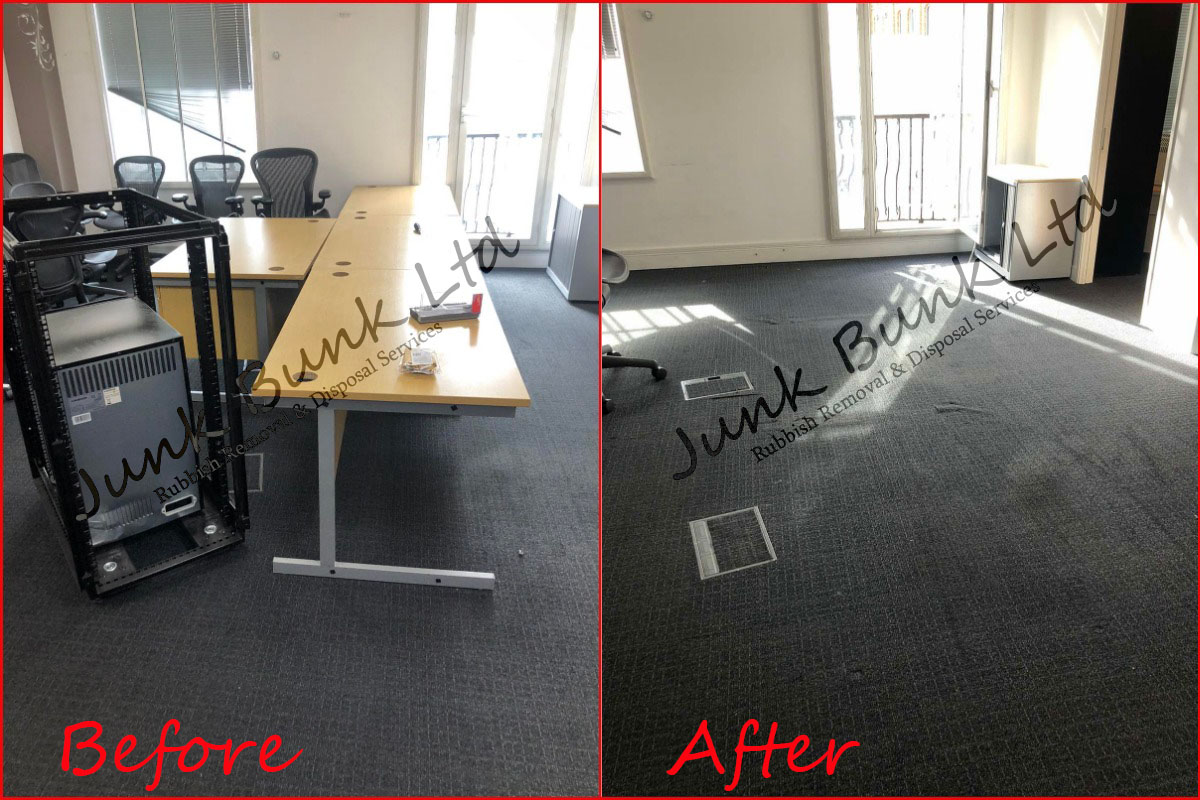 London is huge, office clearance services are often wanted and we have trained and equipped our team to respond to your request right away.
Do not think of how heavy or how many your unwanted possessions are. This is our responsibility. If you need an extra hand for the job, we will provide a person, but you will not be charged more.
Min load

10 Mins
£70
1/4 load

20 Mins
£100
1/3 load

30 Mins
£140
1/2 load

40 Mins
£170
3/4 load

50 Mins
£230
Full load

60 Mins
£290
The only thing you pay is the quantity of the items, not the extra help. This is what we call loyalty and professionalism!
We are equipped and prepared to remove items from any kind of property. And if the access is difficult – we have the equipment to dismantle or break down the bulky items if there are any to be taken away.
We do everything for you. You only have to contact us and leave everything else to our team.
Hire Hard-Working Office Clearance Teams
We are located in every London area, so we are easily accessible and you will not waste any time finding a reliable office clearance company. Call us at +442037692921 or visit our offices and tell us your needs.
Together we will make a plan of what and when needs to be done. After that, you leave our office calm and we start working. When you get back to your office you will find it clear, without a sign of old and unnecessary items!
We offer full and part office clearance, so the only thing you have to do is to tell us what you want from us exactly. Call us and have a useful time doing your daily routines while we clear your office! We are the partner you need! We work for you!