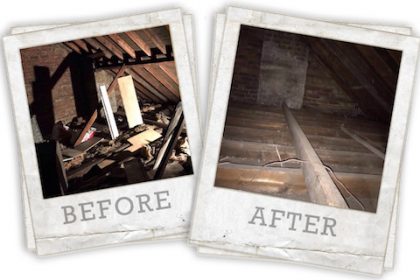 You put something in the loft because it is so out of your way and you no longer look back until there is a reason to go up and look for something. And then you realise what kind of mess your loft is and how much work you will have to do someday – or at least make it a subject for the loft clearance services in London. And yes, this has to be done. Why? Well, here are some things you need to know about your loft.
Loft waste creates a huge burden on the house.
Literally, all the things you store up in a loft are a load for the house to handle on any occasion. Anything that might compromise the floor situation up in the loft will create insignificant cracks. But with enough insignificant cracks they stop being harmless, so think twice before storing tonnes of waste above your head.
Loft space is a wonderland for rodents.
Where do you think many mice infestations start? Sure, the basement is a source, but the walls become a playground for the mice and soon they end up in the cosy loft where they have all the interesting things to go through and gnaw at. And what do they do in cosy places? Why, breed! A cleaner loft will prevent all that.
The problem with clutter.
There is a general problem with the clutter in every country. People think it is not a problem, but it absolutely is. Clutter is not something you want at home. At the very least, it takes up valuable space. At the very worst, it is provably dangerous for your health. You should think not only about the loft, but also about shed clearance or garage clearance for time to time.
The accumulation of dust.
Have you ever walked into a house that has not been used in years upon years? All that thick, tangible air of wretched dust is the result of layers upon layers of dirt and dust and clutter. Fatal for people with asthma, dangerous to everybody else. Think about cleaning your loft every now and again.
Clearing out the loft will help recycling.
Instead of keeping so many items up there and waiting for them to start dissolving and become a health and pollution problem, why not clear them out and send them to a recycling centre? About half the households in London hold enough waste in their loft to recycle the materials for a whole year's worth of notebooks.
A lot of loft waste breaks the insulation.
You do understand why insulation is important, right? Well, then understand that too many things at one place will start to push other things out of their way to fit. Insulation is what will be damaged first.
More loft space means more options.
Bring some of that imagination along for the ride when you think about your loft. Is storage space really the only thing you can think about? How about workshop? Or maybe loft kitchen, or guest room? Go wild with a few ideas and then think about the clearance. It will be an easier choice.
The loft clearance you can get will be a vital thing to do at some point. The idea is not to wait too long and act with creativity after that.