House Clearance Redbridge IG4
It is never easy to find the right help, but when you do find us, we will prove to you that there is no better choice than us. Our house clearance services cover the whole of Redbridge and the entire IG4, we work for you and will handle anything you have to dish out.

Call Now
PHONE: 020 3769 2921
We will have you in awe as soon as our collectors arrive and start work.
The Right Choice for Sure
Make no mistake, you simply cannot go wrong with our company. We have perfected the art of property clearance and we have become among the most reliable companies in Redbridge.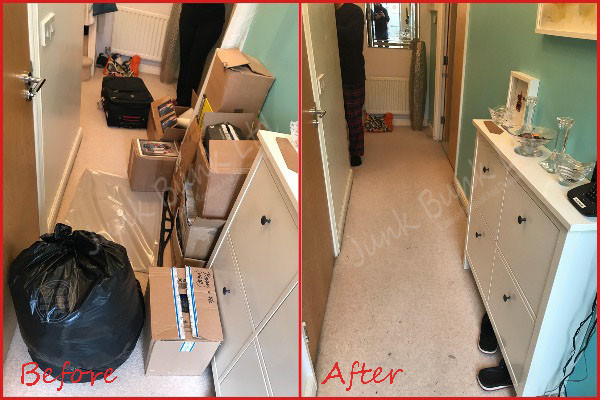 We make the service seem all too easy and we bring it in a seamless manner. With our punctuality, affordable prices, and hard-working teams, you will be challenged to find a better fit for your de-cluttering needs.
The Right Teams on the Job
Nothing gets done without our expert collectors. We bring to the table units of excellent workers who know how to treat a customer and will handle any scale of work.
We will come equipped with anything that you might need and they will arrive on time. We will do the work and only leave when you say that you are happy with the job.
The Right Prices for the Budget
We take our home clearance services out there in IG4 and we provide them at a reasonable cost. Accessibility is ever the bane of many companies, so we want to be available to every home in the area.
Min load

10 Mins
£70
1/4 load

20 Mins
£100
1/3 load

30 Mins
£140
1/2 load

40 Mins
£170
3/4 load

50 Mins
£230
Full load

60 Mins
£290
No matter the size of the budget you are working with, we will fit in. And we will always have a special offer here and there to make the deal even sweeter.
The Right Sort of Service for Redbridge
We make our services as seamless as possible. The transition from phone call to a job well done is barely noticeable. All you have to do is get in touch with our 24/7 operators and set a time and date.
Then we arrive and handle the work, even if it has got to be done on the same as the call. We make no empty promises, so what you want, we provide.
Contact us today on 020 3769 2921 and tell us what kind of help you need.