House Clearance Romford RM1
Hire us for the cheapest service for house clearance in Romford! Our home clearance services are just the right for you!
With the best house & flat clearance teams, we provide the top waste removal services in the RM1 area! We have our local teams there, so don't worry about availability! We can help you any day at any time!
Take a look at some "before / after" photos from our recent house clearances in Romford!
Book at the Best House Clearance Prices in Romford!
Don't miss your chance to book our amazing house rubbish removal service! For instance, we not only give you the best home clearance teams in the area, but we also try to lower our clearance costs to the minimum! In conclusion, everybody in RM1 would be able to use our services!

Call Now
PHONE: 020 3769 2921
Don't just take our word for this, you can always take a look at our excellent reviews, and all the photos on our website! All are authentic and from actual collections!
Hire Same Day House Clearance Romford
Above all, we really love to offer availability to our customers! Often you need the house clearance done on a specific date and time. However, that is not always possible, but this is where we come in! Not only you can hire us for a same-day house clearance service in Romford, but we can send you a team within the next 2 hours!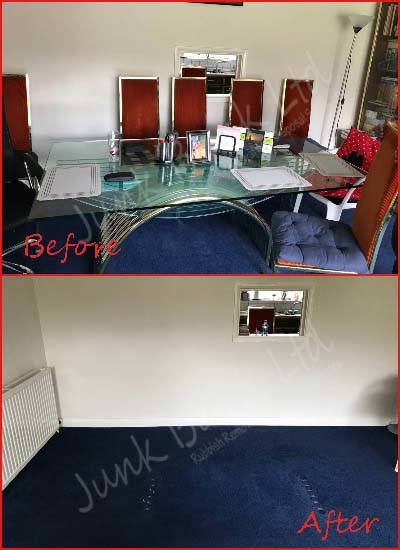 Above all, not only we will send the team so quickly, but most importantly we won't charge you extra for that! In conclusion, you will pay only for the waste taken, our effectiveness you will get for free!
Take Advantage of Part or Full House Clearance in RM1 Area
Our company provides a variety of waste removal services in your area! For instance, we can help you with taking away a single item from your home – a single item collection. Also, we can do a full property clearance in Romford.
Min load

10 Mins
£70
1/4 load

20 Mins
£100
1/3 load

30 Mins
£140
1/2 load

40 Mins
£170
3/4 load

50 Mins
£230
Full load

60 Mins
£290
Including the garage completely cleared and also the loft! You can rely on us in every house clearance scenario! Don't hesitate and call us on 0203 769 2921 to get a free quote now!

Arrange Complete House Clearance in Romford
Our services don't stop at only clearing all your furniture items. The professional team we will send you can handle anything. If your loft is completely stuffed with rubbish or the garage needs emptying. Also, we can dismantle and remove your old and almost fallen shed in the garden.
It's easy to throw away the junk items in the loft. The problem comes when you don't have enough space in there. Not to worry this is another thing we specialize in.
Our teams will come fully prepared. We will bring our ladder and lights. All your waste from the loft will be removed!
It's even easier to fill up the garage with unwanted items. First, it's the old sofa, then the cupboard, maybe also a few broken chairs. One item after another you end up in a situation where you can't fit your own car in there.
The garage has become your storage unit. Everybody hates when that happens and this is the time to call us! The waste clearance will be smooth, and you can sit and relax while we do the heavy lifting.
Unfortunately, garden sheds are not eternal. The weather is their nemesis and after a year or two, the newly purchased shed is not the same. If you are not lucky, the weather could have caused you a plank or even a roof.
When this happens the comfy shed is not that useful for storing all your garden equipment. It's time for a new shed. We are the company to call to remove and dispose of the old one. Our removal teams will break down your shed within an hour and will leave you with just enough space for the new one!
How to Book House Clearance in Romford, RM1?
There are a couple of ways you can get in touch with us:
A simple phone call on  +44 203 769 2921 will do the trick.
Use the office email – office@junkbunk.co.uk. You can even attach some photos, which will be really helpful to us.
Request a Call Backfill the online form on the website with your name and phone number and within the next 10 minutes, you will receive a call from one of our representatives.
Request a Quote – similar to the request call back, but you have the option to provide us with more information about yourself and the waste you are looking to dispose of.