House Clearance in North West London
In the always moving city like London, people need all kinds of services, including house clearing. This is our area! Even more – the whole of London is our area, even if you think that North-West London is remote, it is, not for us! We have local house clearance teams in North West London!
When you decide you need us, just call us, we will arrive immediately. Do not think about how much rubbish you have to get rid of, we will come with more people if needed, our teams have the training to provide every rubbish removal service that you need!
What can our House Clearance Specialists do for you?
The answer is everything. If it includes house clearance, helping you throw away rubbish, taking out old and massive furniture or whatever, no matter the volume and weight, you can count on us.

Call Now
PHONE: 020 3769 2921
Our company is specialized in house clearance in North West London and we confidently state that we are the best if you are looking for a trustworthy partner to do the job properly, on time, and at reasonable prices, contact us now!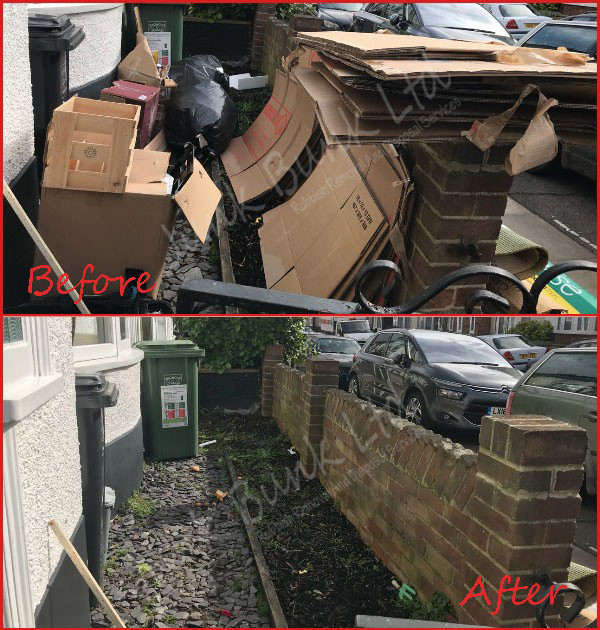 Get Same Day House & Flat Clearance North West London
If you need the work done today, this is also included in our services, if you need extra people because of the number of items, we will charge you not for the extra hand, but for the volume of the work, we always work for the client, no rubbish clearance is too big for us!
Min load

10 Mins
£70
1/4 load

20 Mins
£100
1/3 load

30 Mins
£140
1/2 load

40 Mins
£170
3/4 load

50 Mins
£230
Full load

60 Mins
£290
We are equipped and prepared to remove items from any kind of properties and if the access is difficult – we have the equipment to dismantle or break down the bulky items if there are any to be taken away. We do everything for you, you only have to contact us and leave the flat clearance North West London to us!
Hire our professional property clearance team!
We positively declare that you will obtain services of the highest quality! When we do something, we do it in the best possible way, the North West house clearance is our field of work and we know that we perform our job perfectly, do not hesitate to contact us for a fast and professional house clearance service!
Call us on +442037692921 and we will arrange date & time suitable for you, the job will soon start and you will receive the best property clearance in North West London.
Best North West house clearance prices!
We strive to provide not only rubbish clearance service of the highest quality but also an affordable one. You can check or prices on the website and see for yourself.

Call Now
PHONE: 020 3769 2921
Our prices are based on the weight and the volume of the rubbish we take, the labor time of two professionals is already included and it's usually more than enough of the completion of any of our Loads. You will be charged more only if you have more rubbish!
You can find us here: Camden Town NW1, Cricklewood NW2, Hampstead NW3, Swiss Cottage NW3, Hendon NW4, Kentish Town NW5, Kilburn NW6, West Hampstead NW6, Mill Hill NW7, St John's Wood NW8, Kingsbury NW9, Willesden NW10, Golders Green NW11
You might be also interested in: House Clearance in West London
Frequently Asked Questions for house clearance in NW London:
The quickest and best way to clear your property is by hiring professionals for the job. Any clearance company will send you a team, which will take away your unwanted items for a fee. The charge usually depends on how many items you are looking to get rid of.
The UK House Clearance Association made research showing that the average cost to clear property is £759. Of course, the prices vary depending on the house clearance company you pick and the number of items you have for removal.
You have a few options when it comes to house clearance in North West London. Contact your local council to take some of your items for disposal. The second option is to get in touch with a company that takes the items for free, this option works only if your items are in good condition. The third option is the fastest, but you will have to pay for the clearance - book a waste removal service with a licensed furniture clearance company that will send their own teams to do the waste clearance for you.