House Clearance in East London
We are proud to announce that our clearance services cover all London areas, if you are somewhere in East London and need fast, effective and affordable house clearance, call us, we have our teams in all parts of the city and are waiting to help you!

Call Now
PHONE: 020 3769 2921
We operate everywhere in East London boroughs: Shoreditch E1, Bethnal Green E2, Bow E3, Chingford E4, Clapton E5, East Ham E6, Forest Gate E7, Hackney E8, Homerton E9, Leyton E10, Leytonstone E11, Manor Park E12, Plaistow E13, Poplar (Isle of Dogs) E14, Stratford E15, North Woolwich E16, Walthamstow E17, Woodford E18, Olympic Park E20.
We value your time and have arranged our business to be easy to reach, you can call us for a free rubbish quote to get familiar with our services if you have not used such before.
Everything can be done when it comes to house cleaning. Leave it to our team and when you come back you will have your space cleared, fully or partly, depending on your demand, our teams are qualified and equipped to provide professional property clearance.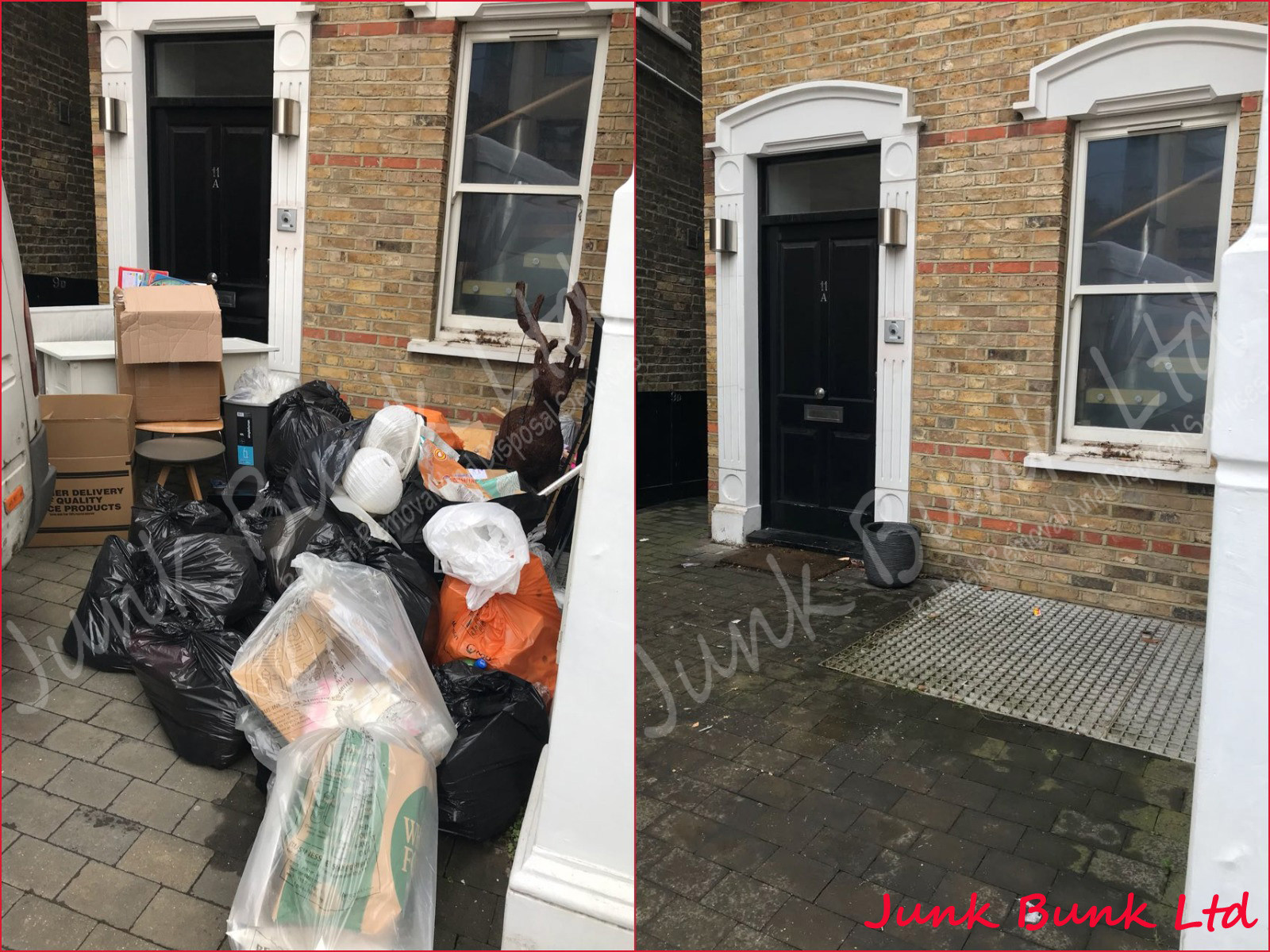 Small Flat Clearance or Full House Clearance?
You move to a new house you need your garage cleared, you change your furniture or whatever the situation is – we are here to help, as in every aspect of life people need a reliable partner, we are the ones you seek when you need efficient waste removal to be done.

Call Now
PHONE: 020 3769 2921
As we have a big capacity of clearance teams, we offer same day house clearance, the moment you decide you need our rubbish removal services, contact us, and we will be there to remove all or part of the rubbish from your house, depending on your needs.
Min load

10 Mins
£70
1/4 load

20 Mins
£100
1/3 load

30 Mins
£140
1/2 load

40 Mins
£170
3/4 load

50 Mins
£230
Full load

60 Mins
£290
Don't miss our excellent house clearance services in East London which are available to you whenever you need them. If you are looking for home rubbish disposal, no matter what it is, we are the perfect solution to all of your problems.
If you worry, you are unable to deal with the clutter in your home, read on to find out what exactly we have to offer, or call +44 20 3769 2921 and all your questions will be answered.
Why choose us over other House Clearance Companies in East London?
Everyone needs a partner to trust, and the best reference is the personal one, therefore, the positive feedback from our clients is really important to us, and we are more than delighted that there are numerous satisfied clients which have used and will use our waste clearance services.

Call Now
PHONE: 020 3769 2921
Do not hesitate to contact us at 020 3769 2921 once you do that, enjoy your time and do not worry about your place, when you come back it will be clean and clear!
Frequently Asked Questions for house clearance in UK:
How much does it cost to empty a two bedroom house?
Considering the average cost for a house clearance is £759, it really depends on how much items you have in your property for removal. If you you are looking for partial clearance, the price will be probably under the average cost.
Does any company do a complete house clearance?
A house clearance is a service offered by a few different businesses including specialist clearance companies, removal companies, general waste removal companies, as well as 'man and van' sole traders. There is usually a simple process that is followed when any customers request a house clearance.
How do I get rid of large amounts of rubbish in my house?
1. Council Clean Up. 2. Skip Hire 3. Hire Rubbish/Waste Clearance Specialists