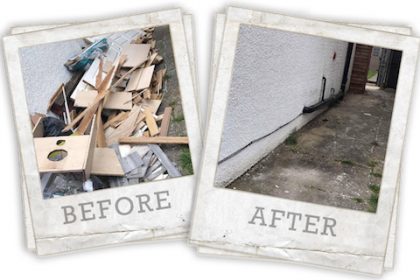 With every constriction site there is one bane, one thing that always gets in the way and is actually the worst thing about the construction as a whole. No, not the construction itself or the architectural safety regulations, but rather all the waste that gets accumulated. The rubble and building waste that is accumulated after a whole building is constructed is, in theory and quantity, enough to actually make another whole building. But it should all be disposed and taken care of, because in the course of a construction it all gets in the way and is dangerous for a variety of reasons. So here is a small guide to disposing rubble and builders waste.
Step One:

Never wait for it to accumulate.
One mistake that many people do is wait for the piles to get big enough and only then act. Wrong. Every single bit of rubble is dangerous for every single builder on that site. Call for builders waste disposal in frequent intervals. That way the damages will be prevented and you will have a secure time while working.
Step Two:

Identify the waste.
Some waste is actually not waste. Some of it can be reused. For instance, unused bricks, ceramics, old tiles that are still in shape can contribute to a future construction and should be kept. Waste in worse condition can even be crushed and donated to road construction companies to help them build better roads. Same goes for soil and garden services. Landscaping is an easy out for all that. Everything else falls into the next category of options.
Step Three:

Collection before clearance.
Even if you do have intervals of clearance, all the waste should not be piled up in one place. Make sure that you have a special place for the collection of all the builders waste. For instance, skips are quite the handy tool to have at a construction site. They will handle all the waste you want thrown out and you can figure out what to do with it later, or just call your builders waste disposal company to come and empty the skip for you. Naturally, if you do use a skip, make sure you have the proper licences. If you place the skip on private property, no problem. But for public property you need a licence from your local government, so make sure you get one issued as soon as possible.
Step Four:

Professional clearance.
Never take care of the clearance of builders waste all by yourself. Always seek a professional advice. This is why clearance companies exist and this is why they will always be useful. They will come and take care of all the accumulated rubble and building waste and you will have washed your hands of all responsibility with connection to that waste. The collectors will do it swiftly and will take it for better recycling in case that you have no idea what to do with any of it or you can use additional services like home clearance services or furniture disposal if the builders waste is not the only garbage accumulated after a renovation. Both your construction, your builders, and your safety will be taken care of.
This is a short and simple guide to disposing of rubble and building waste. It merely takes some thinking. Follow the steps and your site will be the safest place to be at.