Rubbish Removal Upminster RM14
There are so many advantages when hiring our rubbish removal company in Upminster, no matter what kind of waste you want to get rid of.

Call Now
PHONE: 020 3769 2921
No matter what part of RM14 you are in, we will come to you quickly and also remove junk quickly from any property. The other reason why we have become so popular is that we offer the most competitive prices on the market even when it comes to same-day rubbish removal in Upminster.
To book your appointment today call 020 3769 2921 and our agents are ready to answer any of your requests. If we continue to mention other features of Junk Bunk let us show you that we are number one for waste disposal service.
One of the most prominent features is that we offer high-quality service and you can definitely count on us. For years we operate in this industry being fully secured and in accordance with the rules for environmental protection.
We really cover all your needs for waste collection in Upminster, regardless of the requirement.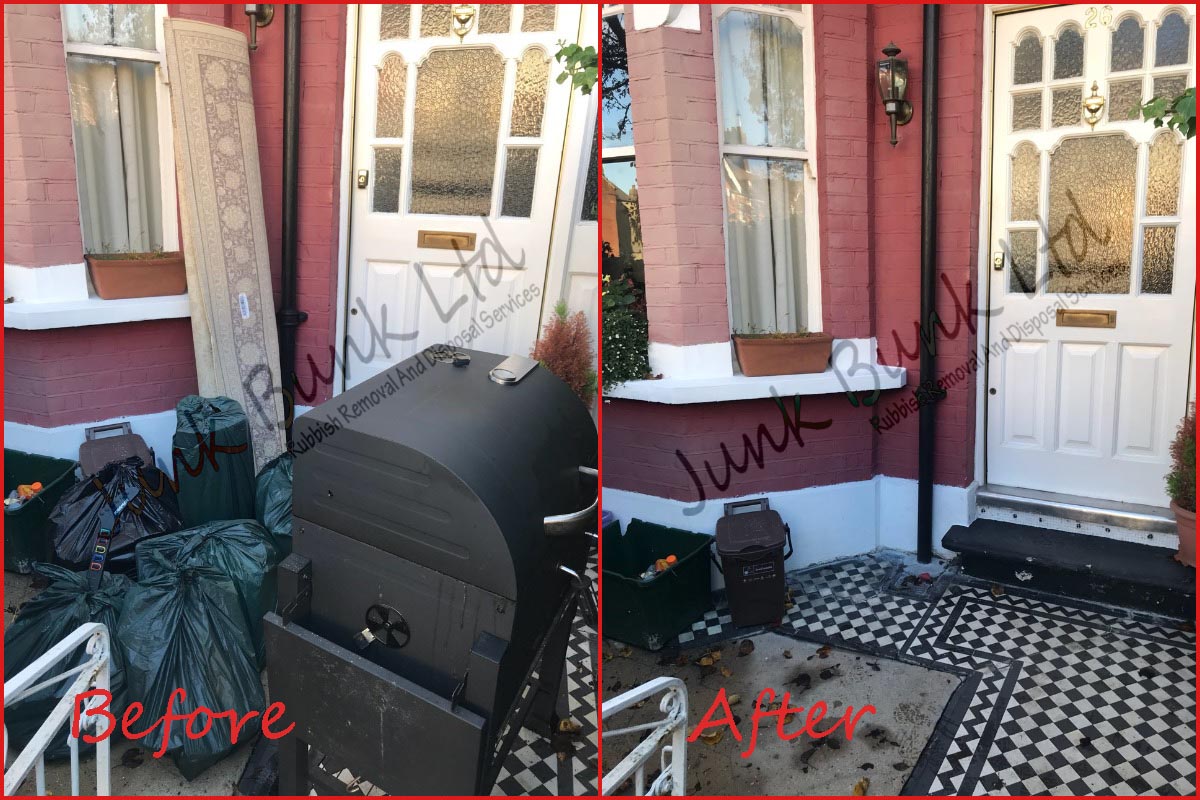 Responsible Rubbish Clearance Upminster
Efficient and fast work is what characterizes us. We want our customers to always be satisfied with what we offer for rubbish clearance in Upminster.

Call Now
PHONE: 020 3769 2921
Reliability is one of the strongest virtues we have built over the years and we continue to provide it to every client. This is due to the fact that we are always responsible and punctual in the work we do with rubbish disposal in Upminster.
Min load

10 Mins
£70
1/4 load

20 Mins
£100
1/3 load

30 Mins
£140
1/2 load

40 Mins
£170
3/4 load

50 Mins
£230
Full load

60 Mins
£290
We work with experienced and well-trained teams in this industry. Our main focus is to provide a stress-free and environmentally friendly Upminster rubbish collection service.
We have also made it possible to be at your service 7 days a week, taking into account the waste removal on weekends. You no longer have to worry about the time spent with rubbish removal in RM14 as we do it and without you being present.
Why choose our waste removal service in RM14:
Junk bunk can relieve your stress and problem with just one call.
With us, you will be safe and get the cheapest rubbish clearance cost.
Our teams are very friendly and will work at maximum speed and care without becoming a nuisance to you or your neighbors.
We are a fully licensed company and make sure the trash always goes in the right place.
Our experts operate on weekends and bank holidays covering the entire Upminster area.
Make Yours One of Our Professional Waste Disposal Service
Junk Bunk comes and your garbage problems go away. The moment we are at your door, the waste problems will be solved in the blink of an eye.

Call Now
PHONE: 020 3769 2921
Our teams are specialized and professional, enabling the best possible work and with the highest security. The equipment we use is one of the best on the market, enabling the removal of all types of garbage and the large furniture collection in Upminster.
Our care is maximum ensuring that nothing is damaged in your property. Above all, if you take a look at our services you will notice a variety of them.
Starting with domestic clearance, office clearance, shed removal, builders waste disposal, and continuing with commercial waste removal and garden clearance in Upminster.
Advantages of booking with us your waste disposal in Upminster:
Same day waste removal service
Teams available 7 days a week (even on bank holidays)
Fair prices based on the amount of waste taken
Professional teams and well equipped
Rubbish pick up within two hours