Are you not sick of the boring state your home has been in for so long? There are so many ways with which you can counteract this pesky adjective. You can make the house better as soon as today and the sooner you start the sooner you will get the results you wanted. You just have to prepare yourself for the first step, which will be a thorough home clearance, and after that it is really a simple exercise in imagination. Because all the hard work comes with the clearing out and the rest is like building LEGOs.
Clear It All
De-cluttering is an essential process, of course. You can never build a house on top of another, right? If you want to reimagine your own house, then you have to lose all the things that your new image lacks. Empty all drawers, throw away the contents of the cupboard, the basement, the attic. In order to make changes, you need to make sacrifices. And because of that you will be faced with the decision which items you don't really need in the house. And don't be silly – there are many of those! Refer to all the places you don't use – or, rather, use as a storage space – and clear out everything there. You are otherwise just saving up space for nothing and all the refreshing will be lost when you simply dump all the old items at the old places.
Use Space Savers
Lack of space in the house is something really easily soluble. There are these nifty things called space savers. They are bought or DIY'd objects that you can use to clutter up categorized items without really cluttering the home. Here are some options for you: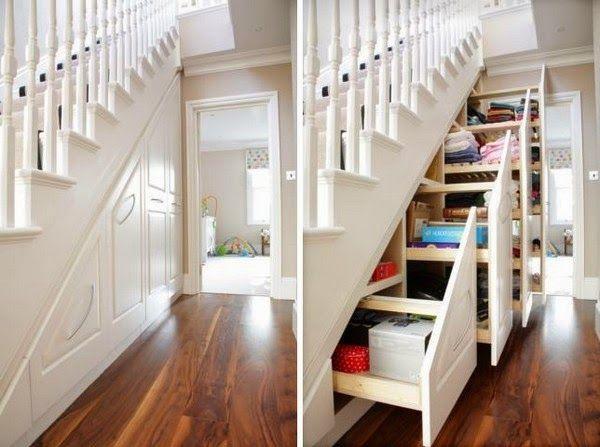 • The space under the staircase. You know, that cupboard place where under aged wizards hang out when they're at their uncle's and auntie's place. If you have a two-storey house, then you can use that as a storage space and leave the rest of the useful places alone. That way your house gets sort of a padding and you get a space for old jars, paper bags, baskets, and everything else that you don't have the imagination to incorporate into the view at home.
• Shelves are the ultimate space savers. You can do so much with a single shelf and we are not even talking about books here. Shelves can be for organizing toys, for decorations, for DIY objects, for cleaning supplies, and so much more. They can be a safe place for the remote control when you are not using it, or for your keys that go missing ever so often.
• Racks. Racks are ever so useful around the house. Starting with the standard coat racks and all their implemented uses, and then we go to kitchen racks for wine bottles. Or just about any rack for a categorized cylindrical object, really. Racks can be so helpful all around the house and they are excellent for all objects that can be hanged from somewhere.
Remodel the Rooms
Every room setting can get old after a while. Always have a plan for new interior design options so that when you get tired of your rooms,
you can implement it immediately. Every single room, including the patio, can have so many outlooks that you can literally have a version of that room for every day of the month. You do not need that many, of course. So just have one or two options and then use them when you think that the time for redecorating has arrived. All you have to do is first do the house clearance or the office clearance, and then think about where you want your things to be. We put this step here because it is important to first pick a place for the space savers and then make sure that you can organise a room around them.
Doing a remodeling is quite the tricky business, but it is often worth it so that you can bring some new life into the old house. Do the waste clearance first, then plan and remodel to your heart's content. You will always be happy with the results because it is, above all, a change.