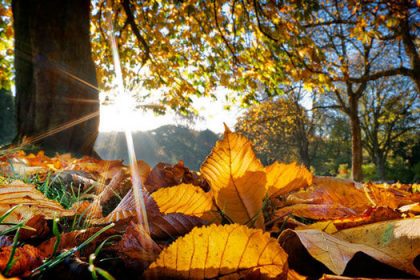 Clearing the garden in autumn, right before the cold weather sets in, can help to ensure its tidy and well-tended look throughout all winter. Among all other advantages of a good autumn garden waste clearance is the prevention of building up fallen leaves. They could turn a garden into a mess, and we dislike the mess! This is why we are going to share some quite useful tips about garden care.
Think in Perspective and Keep it Healthy!
Cleaning up the dead leaves in your garden will remove the potential hiding place for many types of insects and pests. They can be devastating on new plants that are expected to come out in spring. Another good idea is to remove all dead plant material. It can be a cause for plant diseases. We want your garden to be healthy as much as you do, thus we strongly advise that you prune away any stems that are blackened and dying leaves from flowers or vegetables. Those can become a haven for insect eggs and all kinds of diseases in your precious garden. Don't forget to prune away all the dead or diseased branches, as well as trim the deadwood from shrubs and perennials. If you have roses in your garden, bag all the leaves to prevent diseases like black spot.
Weeding is More Important than You Think
A single weed can produce thousands of seeds. This is why removing all the weeds in autumn would prevent a lot of work in spring. It will reduce the number of seeds in the ground, thus making the battle against weeds a lot easier. This extra effort is definitely bound to give you the upper hand.
Clear Up the Garden Waste
There is no doubt that after the trimming of all the hedges, the lawn, the shrubs and the trees, you will have to deal with a huge amount of garden waste. Here is where we recommend a garden clearance company. Call in the professionals and they will take care of all the garden waste for you. Make sure to inform them about the type and amount of waste that you want gone. This way they will come fully prepared and the whole thing will be done before you know it. The waste collectors can remove all the waste at once, including grass, dead leaves, bags of soil, pruned away branches, broken fencing, old garden furniture and even garden machinery. You can also include the garden shed in your garden clearance to make some extra space. Rest assured that your waste will be safely disposed and recycled if possible. Now your garden can be put to bed and get some good sleep, only to wake up with all its beauty when spring comes up.
Move the Garden Indoors
A lot of us work in offices nowadays. Having plants around is more than beneficial, especially when you miss your garden. It is a pleasure to be accompanied by live, green, growing things at work. Greenery makes every working space look a thousand times better. You feel like home, which boosts morale, eliminates air pollutants and greatly reduces stress. As a result, you and your colleagues will be nearly fifty per cent more creative and forty per cent more productive. Who doesn't want that? Get plants for the office (if you already have – get some more) and make everyone feel at home!
You May Also Like: